Links on this site earn me fees or commissions.
As an Amazon Associate I earn from qualifying purchases @AMAZON
Mercedes Sprinter Maintenance: Engine Oil
Photographer and cyclist and Mac expert and software engineer Lloyd Chambers is available for consulting on general Sprinter considerations at his usual consulting rates via phone, or in person in the Palo Alto, CA area. Save yourself hours and mistakes by discussing issues up-front. More about Lloyd....
Mercedes recommends Mobil 1 5W-30 oil. Mobil 1 5W 30 is a terrible oil for break-in, has an outrageously high NOACK value, high ash content, handles soot poorly, is low in zinc. It's pretty much bad for everything in a Sprinter, except a few percent better fuel economy very early in the life of the engine.
Among premium-cost oils, it would be hard to pick a worse oil for a Sprinter diesel. Why does Mercedes do this? Because the EPA holds a legal sledgehammer and looks at tiny factors in full economy (2% or less) as its only criterion, ignoring engine lifespan/wear and thus actual emissions over time as the engine damage increases. Ultimately a vicious cycle develops with low quality oil and infrequent oil changes, resulting in increased probability of huge repair costs (engine, turbo, EGR, DPF, etc), and increased pollution. Perhaps this is why in 2018 Mercedes cut the recommended service interval in half, from 20000 miles to 10000 miles. With the exact same engine, it is absurd that a 2017 Sprinter needs to be serviced half as often!
Mercedes WILL NOT tell you the best oil except in veiled circuitous terms as found in the user manual, again because of the EPA sledgehammer. Mercedes dealers as a rule have no idea what a good oil is for the Sprinter diesel.
See also:
AMSOIL vs. Mobil 1: How We Perform
Choose a Good Oil for Mercedes Sprinter
Getting help
Contact me for a referral to an expert on Sprinter maintenance: type of oil, additives to de-sludge and de-coke the engine, turbo, EGR, swirl valves, etc. This expert will charge you $200, and you will be very happy about what you learn, once you understand that it will likely save you many thousands of dollars down the line (seized-up engine, blown turbo, EGR and swirl valves can go well over $20K and the dealer will just want to replace it all even though there are usually options to de-sludge and de-coke the system).
Expert's Bio: I worked for Mercedes-Benz for 50 years. I was a mechanic, shop foreman, Instructor at the Jacksonville Training center, Field Service Manager, Field Service Technician, Service Director of three MB dealerships, & I owned my own Mercedes-Benz service center. I got the Mercedes-Benz Star Technician Award once, & the Service Manager of the Year 5 times. I retired in 2017. For owners that want personal advice, I send them a PayPal link for $200 to my Grandson's college education savings.
Oil Concerns
The best oil for the Sprinter:
Good diesel engine oil must deal with fuel accretion aka "fuel dilution", that is, leakage into the crankcase oil during normal operation. 5W-30 oil is way too 'thin' and is quickly diluted to an even thinner oil by diesel fuel. Fuel accretion in an engine not properly broken in (a near certainty given 5W30 in the crankcase upon delivery) can be quite high. Ever get a "too much oil" warning? That's almost certainly fuel accretion. This happened to me right after an oil change at the Mercedes dealer—a DPF burnoff cycle occurred, which injected a lot more fuel, which then entered the crankcase oil, which then was more volume than what had just been filled = too much engine oil volume warning.
Good diesel engine oil needs to deal with

soot load

.
Good diesel engine oil should be highly resistant to oil shear (more on that below).
Good diesel engine oil should have a low NOACK* value. NOACK is a rating of how much oil vaporizes at a particular temperature. It is particularly important for the Sprinter because the turbo uses crankcase engine oil—when that oil hits the (up to) 1600°F turbo, it turns into vapor and makes a mess.
Good diesel engine oil should have

zinc to protect the timing chain

.
Good diesel engine oil

should not break down excessively under extreme conditions

.
The Mercedes-recommended Mobil 1 5W-30 is severely lacking in all of the above.
Signs of engine and engine oil issues:
Oil level increased ===> fuel accretion.
Oil level decreases (burns oil) ===> coking and degradation of the piston/cylinder interface.
Declining performance, sluggish revving or acceleration.
Engine runs uncontrollably and self destructs (runs on its own oil, won't stop running even with ignition off, seizes up). One dealer reported to me two engine failures (total destruction) at just 25K miles—constant idling and the oil had not been changed.
* The Noack volatility test, named after Kurt Noack, determines the evaporation loss of lubricants in high-temperature service. Standardized as ASTM D5800, a sample is heated at 250 °C for 60 minutes with a constant flow of air over it. The weight fraction lost is the result for the Noack volatility test. As the lighter hydrocarbon fraction of motor oils evaporate, the viscosity of the remaining oil increases, contributing to poor circulation, reduced fuel economy, increased oil consumption, wear and tail-pipe emissions.
OWC Thunderbolt 3 Dock
Ideal for any Mac with Thunderbolt 3
Dual Thunderbolt 3 ports
USB 3 • USB-C
Gigabit Ethernet
5K and 4K display support plus Mini Display Port
Analog sound in/out and Optical sound out
Works on any Mac with Thunderbolt 3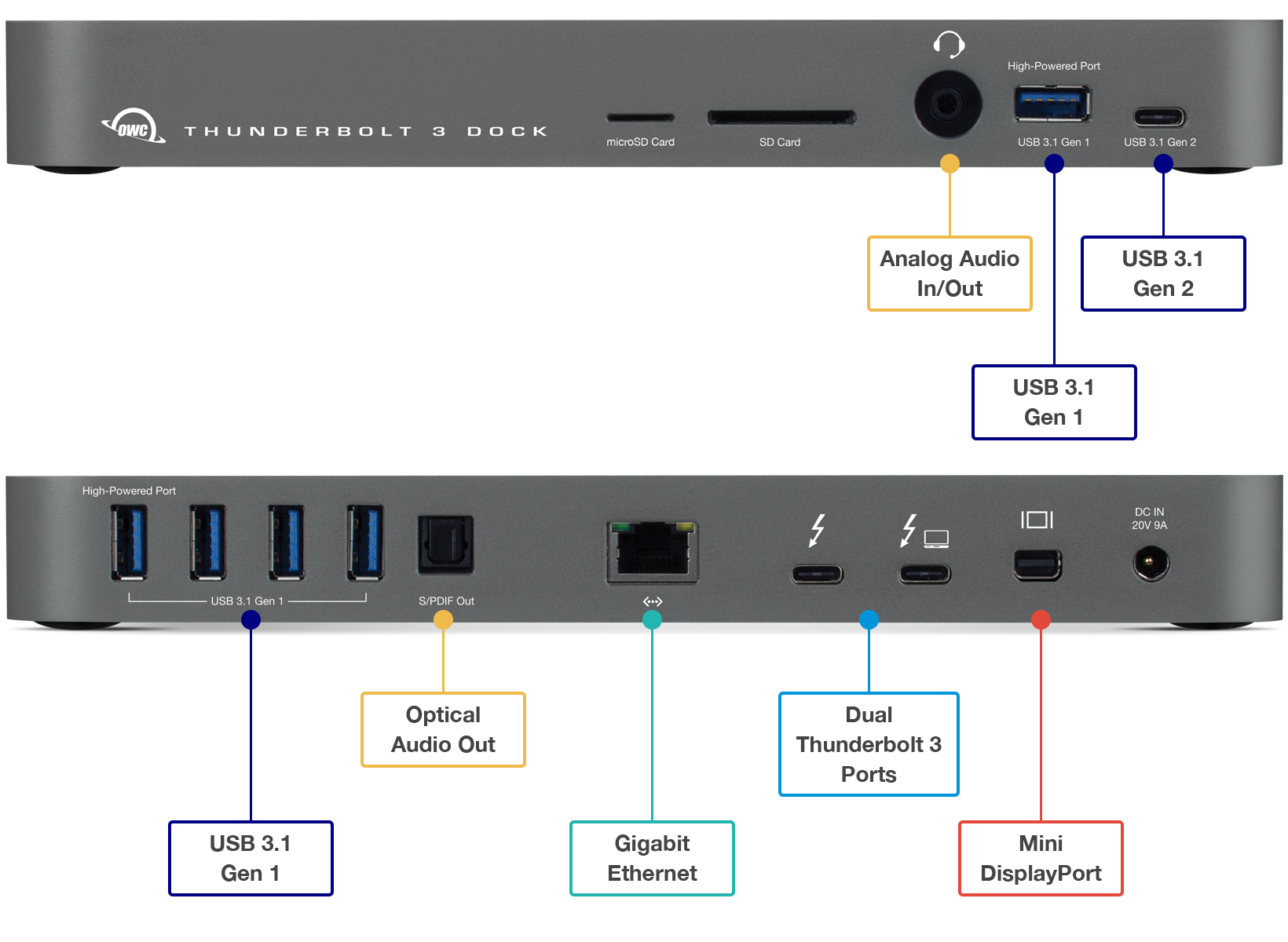 High-level advice
Contact me for expert advice as per above. Recommendations:
Change the oil at least every 5K miles with a high grade oil, 3K miles for heavy idling particularly in cold weather.
For Sprinter engines not too far gone (e.g., not seized up), a desludging and cleanup program every 20K miles or so can greatly improve performance—I did so at 23K miles and my Sprinter purrs and revs more freely and idles more smoothly.
Oil shear
Amsoil has a good point to make in The shear importance of oil :
If the oil loses viscosity due to shear, it can fail to provide the required level of wear protection. Think of the force transferred through the piston, rod and crank to the thin oil film protecting the bearing. There's not much room for error.

AMSOIL uses naturally shear-resistant base oils combined with top-tier, shear-stable viscosity improvers. AMSOIL synthetic motor oil withstands extreme heat and shearing forces, exceeding industry standards and outperforming competing brands. In fact, it fights viscosity breakdown 46 percent* better than Mobil 1. It stands up to the devastating effects of high-horsepower, modern engines for maximum protection.
I don't use Amsoil at present because there is a better oil for my particular operating conditions ranging from 0°F to 100°F. I use a particular 10W-60 oil which am not recommending here, because it may not be the best choice for many users.
The key point is to use a high-grade oil (low NOACK, low ash, high zinc, high shear resistance, etc), and change it every 5000 miles (or every 3000 miles if lots of idling and/or short trips). For a long trip without much opportunity for maintenance, it might be a worthwhile option to use a super high grade oil. Super expensive, but there are some oils that should be protecting better after 10K miles than Mobil 1 at 1000 miles.
2017 advice ≠ good
What follows below was written in 2017, when I was ignorant of all the issues.
I was advised by the folks at Mercedes of Reno to use Mobil 1 (103469-12PK) ESP Formula 5W-30 Motor Oil @AMAZON and that this oil is good down to 0°F, so no need to change it.
The 3.0L 6-cylinder engine takes about 12.5L / 3.3 US gallons of oil! Page 216 of the 2017 Mercedes Sprinter user manual discusses how to check the oil level. It also states:
For vehicles with a red oil dipstick, only check the oil level when the engine is at normal operating temperature.

For vehicles with a yellow oil dipstick, only check the oil level when the engine is cold.
My 2017 3.0L Sprinter 4x4 has a yellow dipstick, so the oil level check is with a cold engine.
Page 279 of the 2017 Mercedes Sprinter user manual states:
Do not add too much oil. Adding too much engine oil can result in damage to the engine or to the catalytic converter. Have excess engine oil siphoned off.

The on-board computer automatically shows the date for the next oil change as an event message in the display.

Depending on the driving style, the vehicle consumes a maximum of 1.0 qt (1.0 l) of engine oil over a distance of 620 miles (1000 km).

Oil consumption may be higher if:

- The vehicle is new.
- You mainly operate the vehicle under arduous operating conditions.
- You frequently drive at high engine speeds.

Regular maintenance is one of the preconditions for moderate rates of consumption. You can only estimate the oil consumption after you have driven a considerable distance.

Check the engine oil level on a regular basis, e.g. weekly or each time you refuel.
In the initial 1300 miles of usage, my Sprinter onboard computer did not request any additional oil, even though the above advice suggests that it ought to have burned through two quarts by that time. However, the dipstick when cold showed a level half way between MIN and MAX. It's a bit contradictory, given what the manual states.